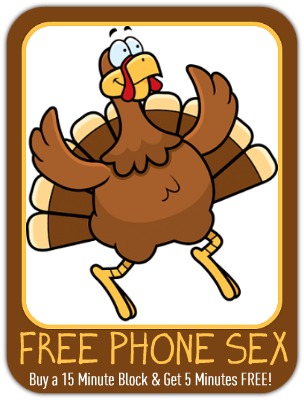 Free phone sex for the holiday?  Yes, that's right, we are offering a phone sex speical just for you!  Whether you are looking to stuff your big hard cock in the mouth of a naughty babe, or you are looking to stuff your thick man meat in a  juicy, wet  pussy, we are ready for you!  However, if you'd rather be the one who gets his hole(s) stuffed, our horny babes are here to satisfy any and all of your sexual needs, desires and fetishes!
Free phone sex offer is a Thanksgiving day special that is valid  for Thursday November 25, 2010 from 12:01am – 11:59pm.  All you have to do is tell the operator of your choice that you'd like the "STUFFING SPECIAL".
"STUFFING SPECIAL":  Buy a 15 minute block of time ($30) and you'll receive 5 minutes of  free phone sex! 
Juicy phone sex for 20 minutes to either stuff your cock, or be stuffed yourself!  Take your pick 🙂  
* All minutes must be used at time of purchase.
 **Any minutes exceeding 20 minutes will be billed at our regular rate of $2 per minute.
By